The main thing they have to know is that any type of shin guard can be used in contact sportsIt does not have to be specific to the sport or martial art that you are going to practice. For example, some MMA shin guards, they can be used for the practice of muay thai, although it will have certain limitations when it comes to giving great protection coverage.
With this clear idea, the first thing that comes to mind isSo why choose specific shin guards for Muay Thai? Choosing specific shin guards for the contact sport we are going to do, in this case Muay Thai, is important as it will keep us well protected and will allow us further optimize our training sessions.
Choose specific protections for each contact sport it involves a reinforcement in protectionDepending on the sport for which the manufacturers are designed, they reinforce one area or another.
Before choosing your shin guards There are aspects that you should take into account, below, we detail a list of features to assess before you can buy the best Shin guards for Muay Thai.
Shin Guard Material
This type of protections they are normally made of semi-leather, since it is a resistant and adaptable material. Among the varied offer we will find semi-leather shin guards of different qualities. Being a protection that suffers daily from both blows and our own sweat it is advisable to look for a high mid range that will ensure a minimum of durability of the shin guard.
Shin Guard Size
Es It is important to find some Muay Thai shin guards that adapt as much as possible, during the practice of sport it is normal that they have some movement, but we must make sure that the chosen size is the correct one, for this it is essential to look at the size tables.
Certain models are one-size-fits-all but the usual type of sizing is found:
Size M (medium): 37cm (from instep to knee) 16.5cm (from instep to foot).
Size L (Large): 39cm (from instep to knee) 19cm (from instep to foot)
Size XL (Very large): 40,5cm (from instep to knee) 20cm (from instep to foot).
One size: Height of 35,5cm. and instep: 18cm.
Grips
As we anticipated a fundamental factor to look for in our shin guard is the support, If the protection is not large or is not properly attached, it will be a hindrance. For greater comfort make sure that it has good grips for its correct hold.
Design
El tubular design It is the most used since it helps a correct hold and allows a better coupling of the shin guard to the tibia. The more it fits the more comfort we will get.
Color
There are no written rules on the type of color that Muay Thai shin guards should have, the important thing is find some that we like. Currently, thanks to the rise of contact sports, the offer of colors and designs has increased, generating a wide range from which to choose the ones you like the most.
Selection of the best shin guards on the market
Given such a wide offer, finding the Muay Thai shinguards at the best price can be a tiring task, we want to make it easy for you, so we present this selection with the best shin guards on the market for Muay Thai, different models so you can choose the one that best suits your needs.
Professional Shin Guard Thailand
These shin guards are specific to muay thai, that's why carry the most protection on the tibia side. It offers great value for money so if you are looking for cheap Muay Thai shin guards this is a quality option.
Furthermore, they are very comfortable and ergonomic, they adapt perfectly to each user, they also have a double velcro closure to ensure that it is well fixed. More information.
Features
Ideal for Muay Thai
Made of Premium Synthetic Leather
Comfortable and highly supportive
Double velcro closure
Unisex
Foam padding filling.
One size
Shin guard Buddha Premium Top
These shin guards They are the most sold for their high resistance. Its tubular design allows it to adapt perfectly to the tibia, together with the closures, two velcro straps on the back and two elastic straps offer maximum protection and comfort. Find the here.
Features
Ideal for Muay Thai
Made of high quality Synthetic Leather
Comfortable and highly supportive
Improvements in durability by increasing thickness and reinforcing seams in more sensitive parts
Union instep and lukewarm with Lycra
Premium shin guards Buddha Special
This new model of Buddha It stands out for its designs and good fit to the leg and instep. As in terms of benefits, it follows the line of the Top Premium. These shin guards are perfect for training at any level. Here more information.
Features
Ideal for Muay Thai workouts
Made of high quality Synthetic Leather
Comfortable and highly supportive
Specially designed for high impacts
Union instep and lukewarm with Lycra
Relief Points to expand impacts
Shin pads Buddha Tubular
They are very comfortable shin guards and they fit very well but they do not offer a high degree of protection, therefore they are recommended for amateur competitions or for low-contact martial arts. They are also a good option for children and those who are beginning in contact sports. Buy them here.
Features
Made of Poly Cotton (Cotton and Polyester Blend)
A lot of comfort
Unisex
Velcro closure at the top for a perfect fit
Recommended for beginners or Muay Thai Amater fighters
Care of a Muay Thai Shin Guard
It is important to know that all Muay Thai shin guards They need a little care for their durability. To keep your shin guards in perfect condition, we give you the following tips:
-Never store wet or damp protections after training.
-Dry the shin guards always before storing them.
-Do not keep in the sun for a long time, as they can deteriorate.
-Do not clean with abrasive products.
Now you are ready to decide which Muay Thai shin guards to buy, now you just have to hold on and know how to fit the punches.
Shin guards Muay Thai MMA Kick Boxing Top Premium Black
€49,90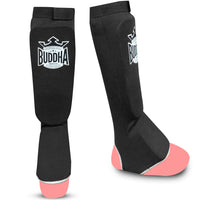 Shin pads Buddha Tubular Black Muay Thai MMA Kick Boxing
€18,00